WHAT HAD YOU INVENTED WHEN YOU WERE 13? I can answer a big fat zero, thank you very much. Gitanjali Rao, a seventh grader at STEM School Highlands Ranch was named to Forbes Magazine 2019 30 Under 30 List in the science category. Wait until you hear what this young lady invented and what far reaching implications for public health it has! Here is a picture of the Tethys Device she invented.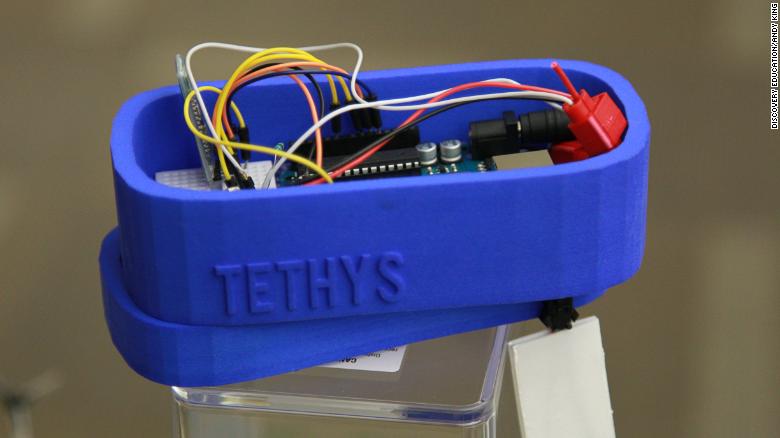 A PRINCIPAL CANCELS CHRISTMAS BECAUSE OF CULTURAL SENSITIVITIES AND I JUST CAN'T WITH THIS ANYMORE You have to read this story about a principal who was SO CONCERNED that someone in her school MAY be offended she pretty much cancelled everything about Christmas, or the holiday season or anything. Needless to say there was backlash and she backed down, but CAN WE JUST STOP ALREADY? I've got a rant on this coming.
PLEASE SHARE THIS STORY WITH ANYONE WHO THINKS SOCIALISM IS A GOOD IDEA It's a really well written recap of how the socialist policies of Hugo Chavez ruined the most oil rich nation in South America. And it should be required reading in school today.
I GUESS WE CAN DRILL OUR WAY OUT OF IT, CAN'T WE? The US just became a Net Oil Exporter for the first time in 75 years. So I guess this was wrong.
DO YOU BELIEVE KAMALA HARRIS DIDN'T KNOW ABOUT A TOP AIDE HARASSING WOMEN? I don't. Read how her top aide used taxpayer dollars to settle a harassment lawsuit she says she knows nothing about.
ANOTHER DAME ACCUSES NEIL DEGRASSE TYSON OF BEING A CREEP And this is how it all ends for the smartest man in the world. Just ask him. From the Buzzfeed.com article:
In January 2010, she recalled, she joined her then-boyfriend at a holiday party for employees of the American Museum of Natural History. Tyson, its most famous employee, drunkenly approached her, she said, making sexual jokes and propositioning her to join him alone in his office. In a 2014 email shared with BuzzFeed News, she described the incident to her own employer in order to shoot down a proposed collaboration with Tyson…

The fourth woman, the one who said that he came on to her at a museum holiday party in 2010, told two friends about what happened shortly after that night, they both confirmed to BuzzFeed News. She wrote about it to her own employer four years later, she said, because they were considering inviting him to speak at an engagement.

Tyson's star power is completely tied to his reputation as a truth-teller, she added. "We take his word at face value," she said. "I think he's exploiting that relationship to get people to believe him."
Yep. But now we BELIEVE ALL WOMEN, amiright?
I'M LOVING MY CHRISTMAS MUSIC ABOUT NOW So today may be the day we talk Best Christmas Songs because why not?
PEACEFUL IMMIGRANTS BREACH THE BORDER WALL AND BREAK IN Because they were tired of waiting for asylum.