MILLENIALS ARE BRINGING DOWN THE DIVORCE RATE And not just by a little, by quite a bit. It's dropped a whopping 18% since 2008 and this is NO THANKS to the Baby Boomers who are STILL divorcing at very high rates. Why the change? My theory is that Millenials and Gen Xers were the first generation to grow up in broken homes. They KNOW what divorce does to children and they don't want to repeat the same mistakes their parents made. Trust me, I KNOW this is true for me.
THE CREEPY PORN LAWYER IS AT IT AGAIN Michael Avenatti is back in the headlines because he's managed to find a woman who says that at multiple parties in the 1980s, Brett Kavanaugh was part of a gang of boys who incapacitated young women and gang raped them. Okay. That seems like a pretty big deal with lots of witnesses for the FBI to have missed it SIX TIMES during background checks. SIX TIMES. I think this accusation is completely crazy and I wish Brett Kavanaugh would sue this woman when her story falls apart.
BY THE WAY, HERE'S HILLARY WITH DR. CHRISTINE FORD'S LAWYER In case you deny a political angle.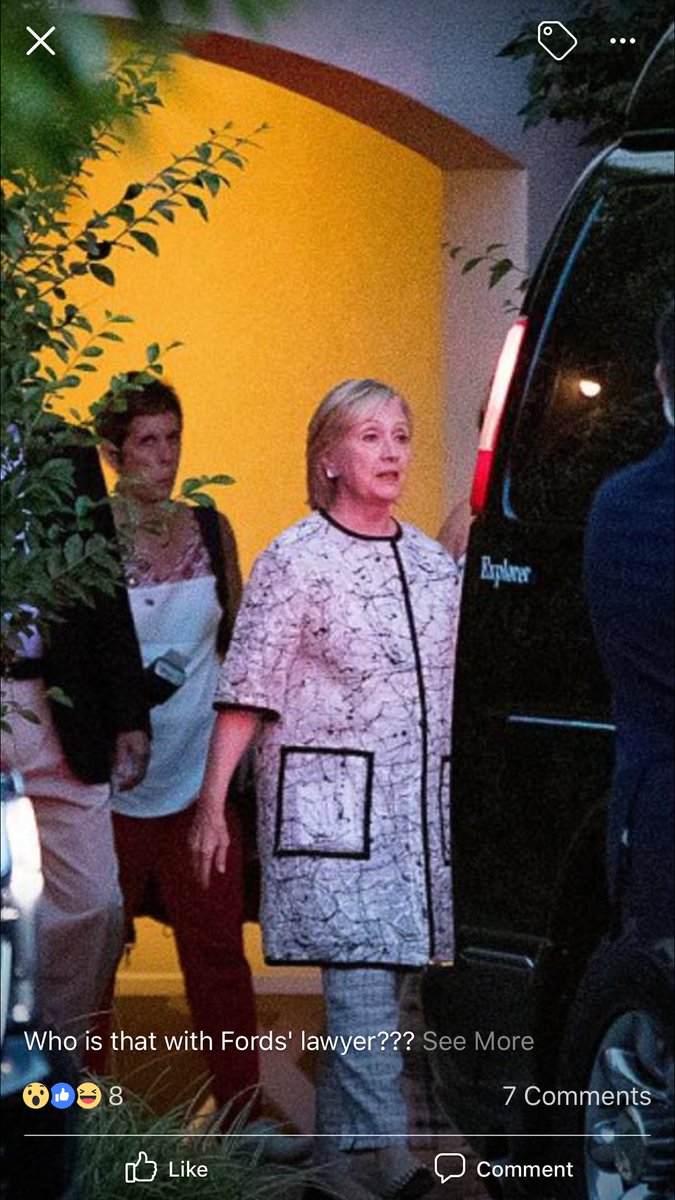 JARED POLIS GOT ARRESTED AND THEN CHANGED HIS NAME And the story is one of those things where I can totally see how Jared Polis might have manhandled a woman who was stealing files from the office she had just resigned from, even if it were a bad choice. But please make sure to tweet out the story so it can be blown up into something insane like the decades old Kavanaugh accusations have been because POLITICS, amiright?? Oh, I linked to an article from my friend Todd Shepherd but he left out quite a few details about the aftermath of the event he describes. Here's the counterpoint from Jared's pals at Westword. BUT STILL, OUTRAGE, AMIRIGHT?
DEAR COLORADO SUN, YOUR BIAS IS SHOWING. The Colorado Sun was started by journalistic refugees from the struggling newspaper business. I had high hopes that the intrepid reporters who undertook this worthy endeavor would do more to make the reporting even and balanced. But check this article on a gun control PAC donating a crapload of money to unseat Rep. Mike Coffman.
Ambler says Giffords is trying to make the 6th District race, and others it is working on across the nation, a referendum on gun violence issues.

Crow has already made gun violence a front-and-center element of his campaign. Giffords thinks it's a winning strategy for Crow and other candidates given changing national sentiments toward firearms, Ambler says.

"If we succeed in making the race a referendum on gun safety, the influence of the (National Rifle Association), then that's going to put Jason Crow in a very good position to win," Ambler said.
Check the language here. The use of the words "gun violence" and "gun safety" are the dead giveaways because it is the language of the campaigns. The proper term for what Giffords and Jason Crow want to do is "gun control", but the Sun didn't use it because people don't like gun control. If this is news the staff at the Sun, you're welcome. If they already knew, shame on you. To be fair, there is ANOTHER article about this battle that does use the words "gun control" by the same reporter. Perhaps he just needs to be more consistent with his language.
IF YOU HAVEN'T SEEN THIS SCOTTISH GRANDMA READING THE WONKY DONKEY, YOU'RE WELCOME It's impossible to not laugh watching this.
WE'RE NOW HOME TO THE WORLD'S MOST EXPENSIVE TROLLEY As RTD cuts the number of cars on the R line due to really low ridership. This is shocking. All we had to do was build an incredibly expensive light rail system and people would rush to give up their cars, right? Right? Hello? Is this thing on?
WE ARE STILL FAILING OUR YOUNG VETERANS And the suicide rate is downright tragic for veterans between the ages of 18 and 34. Even as older veterans are committing suicide less often, the rate is still rising because of the increase in suicide for younger soldiers. The VA is failing them, we are failing them. If you're so inclined please consider donating to Veterans Passport 2 Hope, as they support MANY Colorado organizations who are actually helping save lives. Donate here.
WHEN I DIE, I WANT TO BE A TREE And it could happen! This article examines whether or not a seed I eat before I did could turn into a tree, and the answer is YES! What sort of tree should I be, because I'm totally doing this.
DOUGLAS COUNTY RESIDENTS, READ THIS. I was profoundly disappointed that Erin Kane wasn't given much of a fair chance to become the permanent Superintendent of Douglas County Schools. I have the utmost respect for her because of the culture she created at American Academy and the way she dove into the interim role with both feet. So when she issues a statement about 5A and 5B, I'm going to pay attention. Here is that statement.
"Good evening.

It feels so weird to be back here and to be speaking to you from this podium.

I am here tonight as the former interim superintendent, a Douglas County citizen, and a proud Douglas County mom to share my personal thoughts on 5A and 5B.

This board and I have had and do have our differences, philosophically and otherwise. However supporting 5A and 5B is not about me nor this board, it is about the long-term success of our schools and, most importantly, our kids. This is about putting our kids before politics - a choice I strive to consistently make.

As you all know, my team and I made a strong case for a mil (smaller) and a bond during my time at DCSD. But before making that argument, we made sure that every dollar we had was being spent wisely. I spent endless hours pouring over spreadsheets to understand where every dollar was. We cut from central spending and put as much money as possible in our schools and classrooms. We owe the taxpayers nothing less.

I have personally visited every school in this district and am very familiar with the urgent and growing capital needs throughout our district. Our school and district buildings do not belong to the board or the superintendent, they are assets that belong to the Douglas County community. It is essential that we invest in our assets for today's students and families, tomorrow's students and families, for our property values, and for the future of our community.

I have also had the privilege of working side by side with the incredible people that work hard every day for kids in our district. I have a great deal of respect for my former colleagues on cabinet, I know first-hand how dedicated our school leaders are to their schools, students, staff and community. I believe in all of our teachers and I know that they work tirelessly to reach every student - this is why they became teachers. Our bus drivers, electricians, educational assistants, and every DCSD employee all play critical roles in supporting our students. And I know first-hand that we are losing the ability to pay them all competitively as compared to our neighbors. This market pressure exists in all of our schools - neighborhood, charter, magnet, etc. A locally-funded mill levy override is critical to help cover the local funding gap that exists between us and other districts. A MLO would benefit every student in DCSD, regardless of where they choose to attend school. Finally, an MLO would mean that every additional Douglas County taxpayer dollar would go to Douglas County schools - providing local accountability.

I could fill up an entire public comment regarding my thoughts on Amendment 73 but for now, I would simply like to express the importance of keeping local dollars local.

For me, supporting, 5A and 5B is, first and foremost, about our kids. And it is about valuing the great people who work in this district for our kids every day. These considerations trump politics in our boardroom and our community.

Thank you to everyone who listened to me tonight. I respect citizens and taxpayers with different points of view. Thank you for allowing me to share mine.

Thanks! Erin
This matters to me because even though I don't trust the current board much, I believe Erin. Make your own decisions.
THIS IS HOW OUR EMPIRE CRUMBLES AND WE'RE ALMOST AT THE KICKOFF Because our elected officials (and the voters who vote them in on the promise of more goodies for everyone) keep spending like drunken monkeys our debt service will soon exceed the amount of money we spend on national defense. Got that? This is how empires collapse. But I'm sure we'll be different because....uh...I got nothing.
AS SOME FOCUS ON THE LAUGHTER OTHERS FOCUS ON THE MEAT OF TRUMP'S UN SPEECH You may have seen late night hosts (I can't call them comedians anymore) making fun of the burst of laughter during President Donald Trump's UN speech. What they may have missed is what's pointed out in this editorial in Investors Business Daily, which is that the United States of America is BACK, baby! And we aren't going to bow to anyone.
BASEBALL IS SCARY, ESPECIALLY IF YOU'RE A PITCHER.
NOW, HERE'S HILLARY CLINTON TALKING ABOUT THE FORK IN HER PANTS Because the guys at Bad Lip Reading did Hillary Stories edition.