Rockies Beat Reds, 5-3, Blackmon Set For HR Derby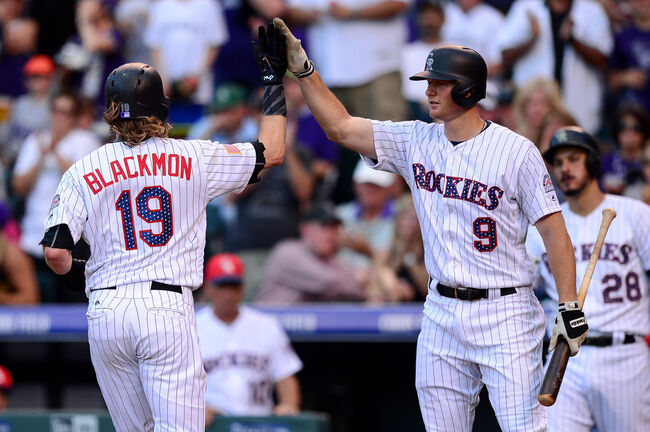 Charlie Blackmon and D.J. LeMahieu celebrate Blackmon's fourth inning home run on Monday night - Photo: Dustin Bradford/Getty Images
Home sweet home.
After a difficult road trip through three National League West cities, the Colorado Rockies came back to the friendly confines of Coors Field and picked up a 5-3 win over the Cincinnati Reds on Monday night.
Raimel Tapia broke a 3-3 tie with a solo home run in the sixth inning. He finished with three hits and was a single shy of the cycle.
Rockies outfielder Charlie Blackmon also homered. Blackmon will compete in the Home Run Derby next week at the All-Star game in Miami. Other contestants will be Aaron Judge, Gary Sanchez, Justin Bour and reigning Home Run Derby champion Giancarlo Stanton of the Marlins, Cody Bellinger, the Royals' Mike Moustakas and Miguel Sano.
MORE ON CHARLIE BLACKMON IN THE HOME RUN DERBY HERE
Jeff Hoffman gave up three runs on four hits in seven innings to get the win and run his record to 5-1.
The Rockies and Reds play game two of the series on Tuesday at 5:30 p.m. MDT on KOA NewsRadio 850 AM and 94.1 FM.
MORE DETAILS AND HIGHLIGHTS OF MONDAY'S GAME ARE HERE
Postgame comments from Rockies third baseman Nolan Arenado.
Comments from pitcher Jeff Hoffman.