Rockies Fall But Put Four On N.L. All-Star Team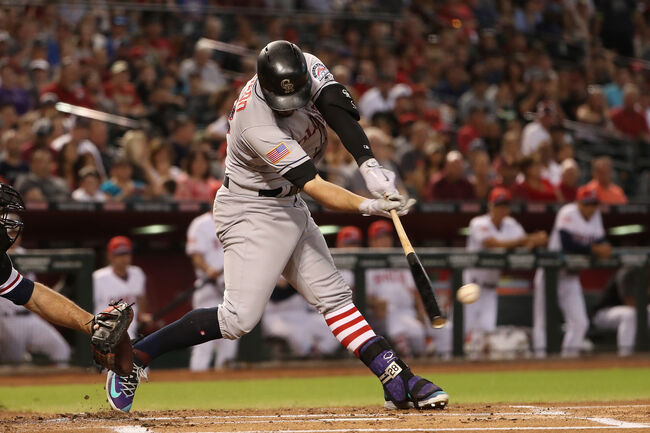 Colorado Rockies third baseman Nolan Arenado gets a single against the Arizona Diamondbacks on Sunday - Photo: Christian Petersen/Getty Images
Every game is important but the Colorado Rockies' 4-3 loss to the Arizona Diamondbacks on Sunday seemed a little bit like an afterthought. After all, four Rockies made the National League All-Star team, including third baseman Nolan Arenado, outfielder Charlie Blackmon, second baseman D.J. LeMahieu and closer Greg Holland.
It's the most All-Stars the Rockies have ever had in one year. Fans voted Arenado and Blackmon into the starting lineup for the game, which will be Tuesday, July 11 at Marlins Park.
DETAILS ON THE ROCKIES FOUR ALL-STARS ARE HERE
They might get a fifth player on the team. First baseman Mark Reynolds is one of the Final Vote candidates.
GET MORE INFORMATION ON HELPING SEND MARK REYNOLDS TO THE ALL-STAR GAME HERE
Comments from each player are below.
On the field Sunday, after rallying to tie the game on Charlie Blackmon's RBI single, the Diamondbacks won it in the bottom of the ninth. Ketel Marte brought home Brandon Drury on an RBI base hit.
The Rockies finished the road trip with a 1-8 record. They'll try to regroup against the Cincinnati Reds on Monday, July 3 at 5:30 p.m. MDT on KOA NewsRadio 850 AM and 94.1 FM.
MORE DETAILS AND HIGHLIGHTS FROM SUNDAY'S GAME ARE HERE
Comments from third baseman Nolan Arenado.
Thoughts from outfielder Charlie Blackmon.
Closer Greg Holland spoke after Sunday's game.
Comments from second baseman D.J. LeMahieu.