Arenado Is The Hero Again; Rockies Top D'backs, 4-3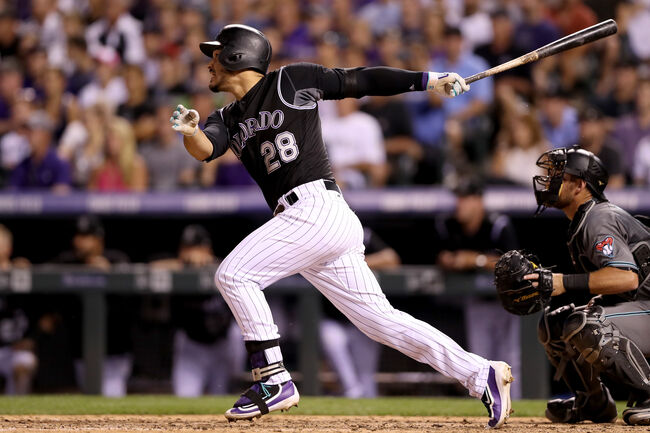 Colorado Rockies third baseman Nolan Arenado belts a go-ahead two-run triple in the eighth inning of a 4-3 win over the Arizona Diamondbacks on Tuesday night - Photo: Matthew Stockman/Getty Images
Nolan Arenado is on some kind of roll.
Arenado's two-run triple in the bottom of the eighth inning brought in Charlie Blackmon and D.J. LeMahieu and gave the Colorado Rockies a 4-3 win over the Arizona Diamondbacks at Coors Field.
The Diamondbacks had taken a 3-2 lead in the top half of the eighth on back-to-back solo home runs by David Peralta and Paul Goldschmidt.
But for the second straight game, the Rockies rallied late. Blackmon reached on a single to left and LeMahieu followed with another base hit to left. That set the stage for Arenado, who came through again, sending Zack Greinke's 1-0 pitch off the right-field wall.
Sunday, Arenado's three-run, walk-off home run in the bottom of the ninth inning gave the Rockies a 7-5 win over the San Francisco Giants.
Arenado finished 2-for-4 with the two RBIs. Carlos Gonzalez, Ian Desmond and Trevor Story also had two hits each for the Rockies.
Despite giving up the home run to Goldschmidt, Adam Ottavino (1-1) picked up the win in relief. Greg Holland earned his 25th save.
The Rockies have won six straight games.
The Rockies and Diamondbacks play game two of the series on Wednesday. Coverage starts at 6:05 p.m. MDT on KOA NewsRadio 850 AM and 94.1 FM.
DETAILS AND HIGHLIGHTS OF THE ROCKIES WIN ARE HERE
Here is KOA NewsRadio Voice of the Rockies Jack Corrigan's call of Arenado's 2-run triple in the eighth inning.
KOA NewsRadio Voice of the Rockies Jerry Schemmel spoke with outfielder Carlos Gonzalez after the win.
Postgame comments from Nolan Arenado.