Rockies Sweep Giants, 7-5, On Arenado's HR, Cycle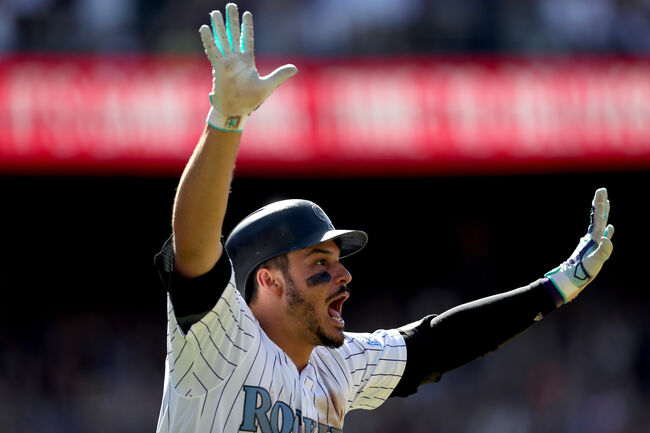 Colorado Rockies third baseman Nolan Arenado celebrates his game-ending home run, a hit which completed the cycle, in Sunday's win over the Giants - Photo: Matthew Stockman/Getty Images
It was a moment that, for the regular season, was as dramatic, as clutch, as heartstopping, as inspiring, as mindboggling as it possibly could be.
Yet, in the end, it was simply Nolan being Nolan.
Nolan Arenado's walk-off, three-run home run propelled the Colorado Rockies to a 7-5 win and a four-game sweep over the San Francisco Giants on Father's Day at Coors Field.
Not only did Arenado's blast win the game, it was also the final hit in his cycle. Earlier in the game, he had banged out a single, a double and a triple. Arenado finished the game 4-for-5 with four RBIs.
"I wanted that last at-bat," Arenado told KOA NewsRadio's Jerry Schemmel after the win. "I wanted to be in that situation. I have confidence and I'm just thankful we won. Unbelievable game."
The Rockies have won nine straight games against the Giants and are now 46-26, the best record in the National League.
After a day off on Monday, the Rockies start a three-game series against the Arizona Diamondbacks at Coors Field. Tuesday's game starts at 6:05 p.m. MDT on KOA NewsRadio 850 AM and 94. 1 FM.
MORE DETAILS AND HIGHLIGHTS OF SUNDAY'S DRAMATIC WIN ARE HERE
KOA NewsRadio Voice of the Rockies Jack Corrigan had the call of Aredano's heroics in the ninth inning.
Arenado spoke with KOA NewsRadio Voice of the Rockies Jerry Schemmel immediately after the win.
Postgame comments from manager Bud Black.